Who are We?
We are a team of two (for now) united by an Idea - a solution to a problem that is urgent and important. Bharath is an Aeronautical Engineer who left his career in aeronautics to pursue his passion in teaching and tutoring. I (Selva) am a Software professional for more than a decade mostly in Data Engineering and Visualization.
Learning Gap idea came out of Bharath's experience of working with Students who go through struggle in the learning process. He found many students who are moving to Higher Secondary classes struggle even with 6th grade subjects. He has worked with them and their parents to identify their learning gap. He then focuses on the gaps with specialized coaching. He has done this method of identifying gaps and addressing to so many students that he thought there should be a better way to do this. Being a non-technical person, he was searching for a technical person who can help to make this as a product. We both met in a entrepreneurial meetup where this problem connected with me a lot and I thought could support. We immediately started to work together.
Why this? Why Now?
We can say Learning Gap has been there ever since Learning has been there. Have we all understood all the concepts in one grade before moving to the other grade? Most likely, No. As per the system, if we are able to reproduce 40% of what we have studied, in the exam, that is good enough to move up. This has always lead to gaps in understanding some concepts that could be critical in the next grade. So, there has always been a need to address this Learning Gap.
The Pandemic has worsen the problem to an unimaginable scale. Sudden transition to online classes posed challenges from non-availability of resources like internet for students to lack of proper connect with students for teachers. Syllabuses were cut-short, students were auto-promoted without exams - all these have had an alarming impact on the students learning. WEF Report says, in India, only 1-in-4 children had access to a digital device, and nearly half of the children in rural India have no means to study online. World Bank Report says across the World, Learning Losses from COVID-19 Could Cost this Generation of Students Close to $17 Trillion in Lifetime Earnings.
A snippet from a World Bank Report - Percentage of Students in Grades 3, 5 and 7 who are able to read Grade 2 level text. The already low percentage worsened to greater depths due to COVID.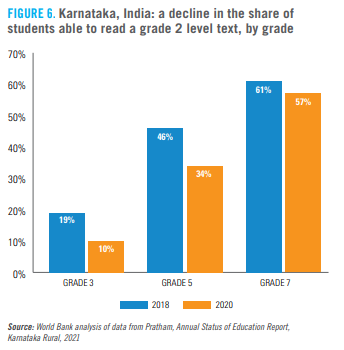 India is not alone - even developed countries like UK which is considered to have one of the best education systems has suffered greatly in terms of Actual Learning Vs Expected Learning.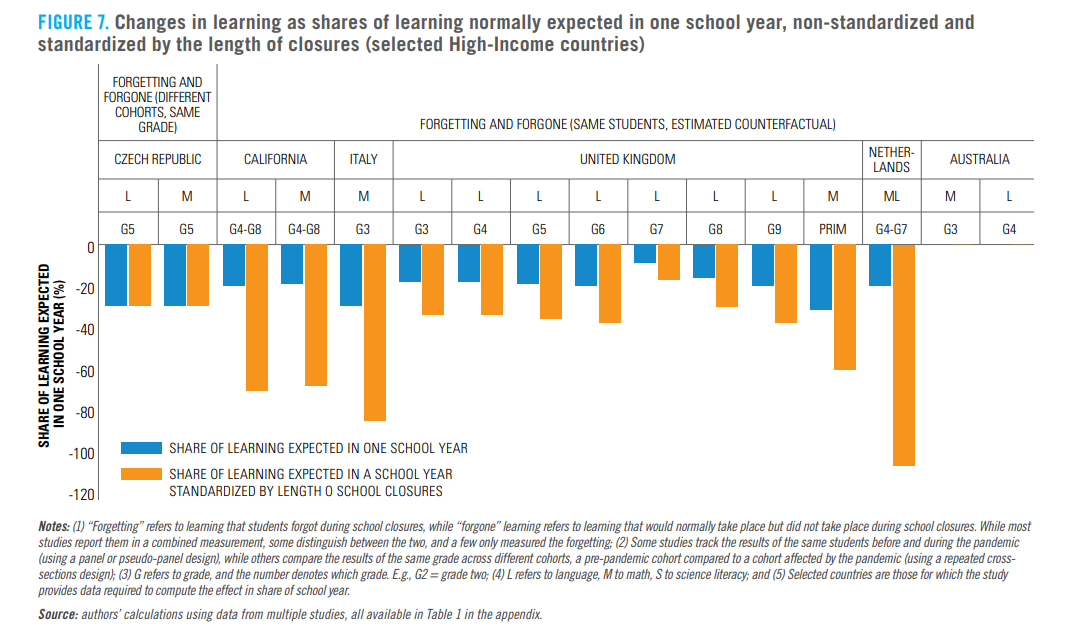 We are in a watershed moment now, where students have just returned to school after a long break. We need to act now to identify the critical learning gap of students and figure out ways to address it before it is too late.
How do we plan to Solve?
Bharath has designed an efficient non-intrusive method to identify student's learning gap in as low as 10 minutes. That is our product. A simple quiz will help Students / parents to identify the learing gap. There are different types of quizes that cater to specific needs of students like Grade Quiz, Subject quiz etc. We provide a Learning Gap report that provides a detailed analysis of where the learning gap is, what to focus on and how to fix them.
An Ed-tech for common people
Unfortunately, Ed-techs in India have become infamous for going behind vulnerable parents and swindling their hard-earned money. We don't see why it has to be like that. We believe education is an universal right and every children deserves quality education. We are for-profit as well; but, we are sure that that a simple profitable product at scale can help us to reach greater heights.
We are here to do the right thing, always!! Let's Go!!